Gauss Meters & Magnetometers
DigiGauss DG1
Digital Magnetic Field Indicator
---
Pocket Magnetometer
Designed by Johnson & Allen the DigiGauss DG1 is a digital update of the older mechanical deflection type magnetometer field indicator built to measure residual magnetism after demagnetising. Verifying adequate demagnetisation has taken place is an important process as residual magnetisms left in critical components could negatively affect their performance.
The OLED screen is also extremely easy to read even in the darkened conditions of a typical fluorescent magnetic particle inspection environment.
The DigiGauss DG1 is supplied in a plastic case with foam as standard but a deluxe splash proof case with foam fitted inserts is available.
---
Gauss Trip Function
With a similar size, shape and feel as its mechanical counterpart the DigiGauss DG1 boasts a number of benefits from being a digital unit while still retaining a high level of familiarity. One key benefit is the 'Gauss trip' function where by the background becomes red to notify an operator when a Gauss reading exceeds a pre-programmed value - Typically 2 or 5 Gauss.
The Gauss trip function ensures that areas of high residual magnetism are not missed by operators as a clear change in colour is easier to see than a slight needle movement. Particularly when mechanical deflection type field indicators are susceptible to errors from them being physically moved by operators during the inspection process.
The DigiGauss DG1 can also display readings in the form of a large numerical display for operators who dislike needle metering entirely.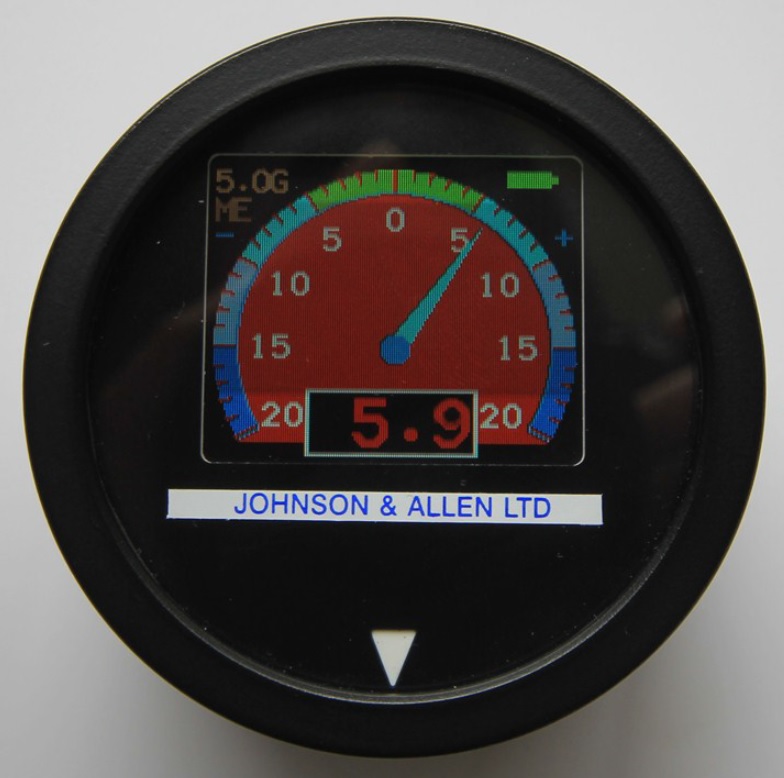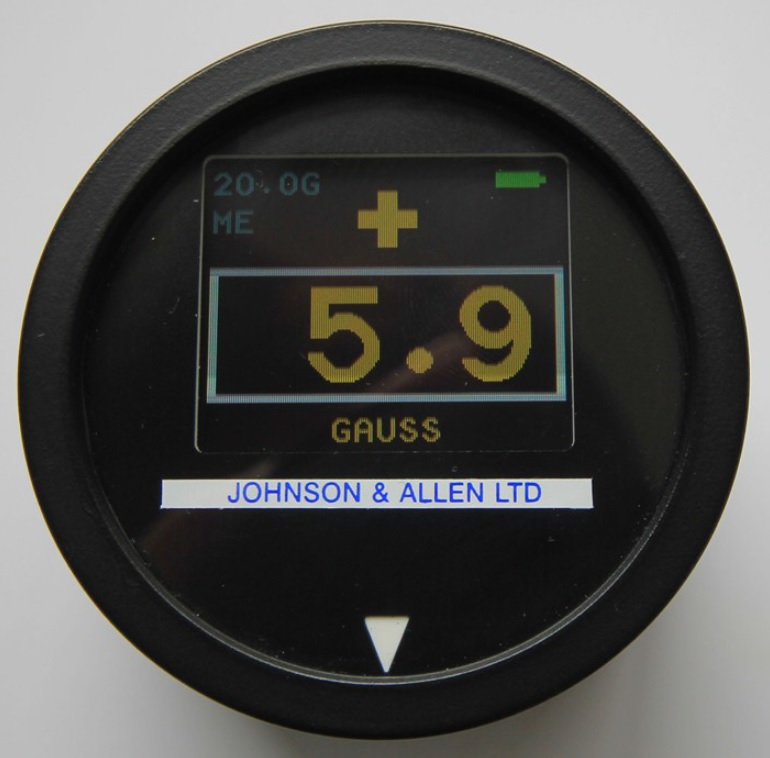 ---
Specification
| | |
| --- | --- |
| Sampling Frequency | 30.5 Hz |
| Sampling Range | 20 kHz |
| Calibration Range | 20 - 0 - 20 (standard) |
| Equipment Range | ± 95G (DC) |
| Equipment Resolution | 0.1G |
| Display | 160 x 128 OLED (full colour) |
| Measurement Units | Gauss |
| Power | 2 x AAA Batteries (10 hrs. life) |
| Size | 65mm Dia. x 37mm |
| Weight | 150g |
---
Gauss Meter Calibration
The DigiGauss DG1 is individually serialised and supplied calibrated as standard. Calibrations are in keeping with national standards which includes fully traceability.
Below are the calibration ranges available - For other ranges please contact the Johnson & Allen Calibration Laboratory to discuss your precise needs.
20 - 0 - 20 (Standard)
10 - 0 - 10
5 - 0 - 5
The DigiGauss DG1 displays the unit's serial number and the date of the last calibration upon on start-up. Johnson & Allen recommend that equipment be calibrated at least once every 12 months.
---
Zero Chamber Function
The DigiGauss DG1 is supplied with a zero chamber – A ring containing mu-metal which shields the meter from external magnetic fields such as local magnetic fields and the Earth's natural background magnetic field.
Because field indicators by their nature are exposed to magnetisms, the potential arises for residual magnetisms to be picked up by the batteries over periods of heavy use. Particularly if units are inadvertently exposed to large magnetising fields by accident which would normally damage mechanical units.
The zero chamber function included with the DigiGauss DG1 allows the unit be zeroed within a number of seconds - Without invalidating the last calibration.
---
Product Data
Gauss trip function – Background becomes red to notify operator when a reading exceeds 2G, 5G or a customer defined Gauss value (Default 3G)
Full colour 160 x 128 OLED display with adjustable brightness.
Easy to read in darkened conditions.
Retro deflection needle display mode.
Large numerical value display mode.
Single index button - Simple to use.
Battery gauge function.
Uses easily to obtain AAA batteries – Supplied with 2 x 1.5V batteries.
Zero Chamber function to negate internal residual magnetism - Zero chamber included as standard.
Aluminium construction - Robust construction with gasket seals to retard fluid ingress.
Electronic unit not damaged by excessive overloads like mechanical units.
Fully calibrated for measuring residual magnetism and supplied with relevant paper work.
Digitally displays last calibration date and serial number on start up.
Deluxe splash proof case with foam fitted inserts is available.

Share This Product