Equotip 550 Leeb
Portable Hardness Tester
---
Leeb Impact Hardness Tester
The versatile Equotip 550 Leeb Portable Hardness Tester is designed for on-site testing of heavy, large or installed parts.
This package includes the Equotip 550 touch screen unit and a general purpose Type D Leeb Impact Device as standard.
Calibration services are also available from Johnson & Allen's calibration department.

---
The Leeb Measuring Principle
The Type D Leeb Impact Device makes hardness measurements using the dynamic rebound testing method according to Leeb hardness test principle which is based on the dynamic (rebound) method.
An impact body with a hard metal test tip is propelled by spring force against the surface of the test piece. Surface deformation takes place when the impact body hits the test surface, which results in loss of kinetic energy. This energy loss is detected by a comparison of velocities vi and vr when the impact body is at a precise distance from the surface for both the impact and rebound phase of the test, respectively.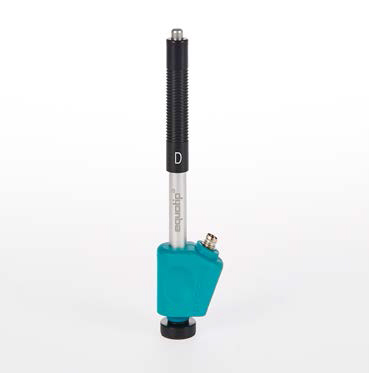 Velocities are measured using a permanent magnet in the impact body that generates an induction voltage in the coil which is precisely positioned in the impact device. The detected voltage is proportional to the velocity of the impact body. Signal processing is then providing the hardness reading.
---
Equotip 550 Touchscreen Unit
The Equotip 550 enables portable hardness inspection of almost any object, polished parts and heat-treated surfaces. The Equotip 550 features rugged touchscreen designed to provide an exceptional user experience and best possible measuring and analysis, with enhanced software features and analysis functions.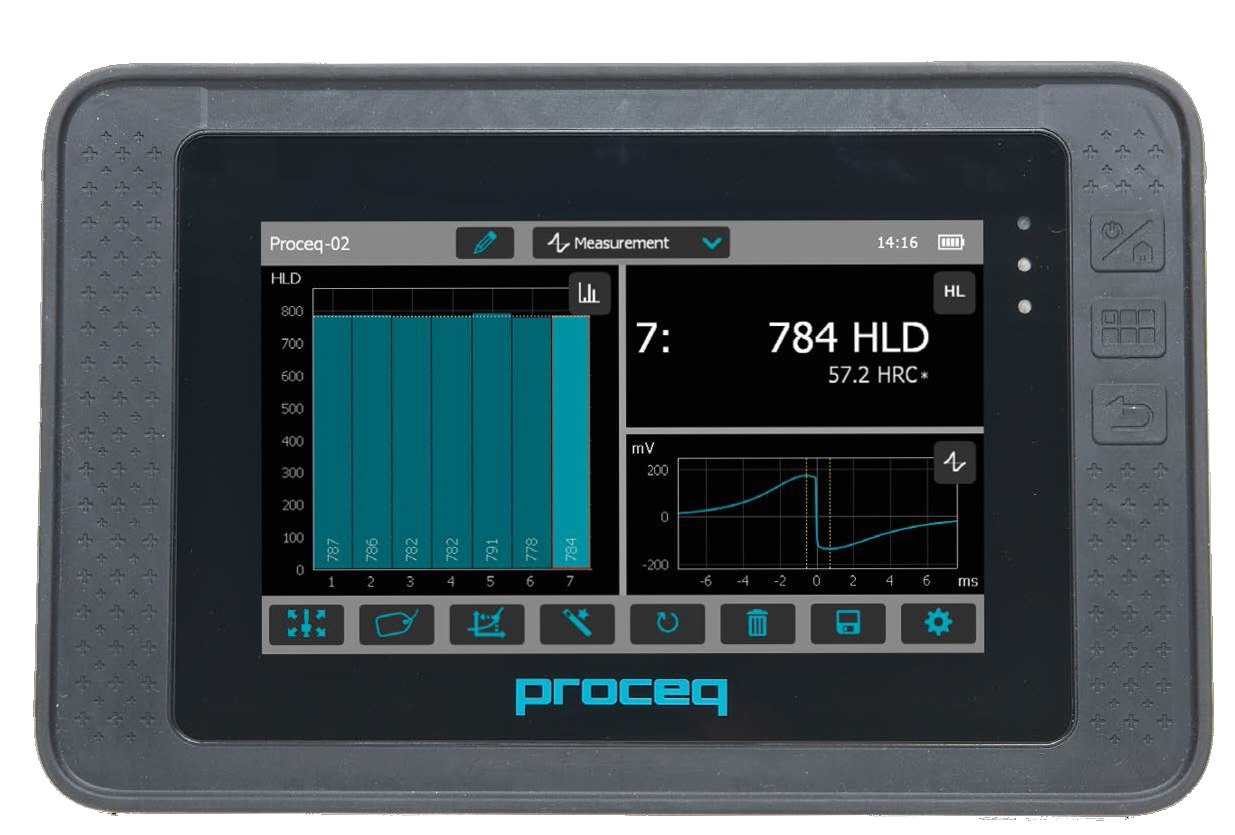 The Equotip 550 allows operators to easily create pdf reports on-site directly using the instrument and export to a USB stick. The reports can be fully configured and enhanced with customer specific information and company logo.
The Equotip 550 is compatible with the full range of Proceq Leeb probes and Rockwel probes which available upon request.
​
---
Key Features
Automatic compensation for impact direction
Personalized user profiles and views
Integration in automated testing environments - Including remote control
11 Languages and timezone supported
Includes PC software - Equotip Link allowing direct reporting and custom reports
7" color rugged touchscreen unit - 800 x 480 pixels
Dual core processor
Internal 8 GB flash memory - Record over 1,000,000 measurements
USB host / device and Ethernet connections
---
Standardization
Standards

ASTM A 956
ASTM E 140
ASTM A 370
ISO 16859
DIN 50156
GB/T 17394
JB/T 9378

Guidelines

ASME CRTD-91
DGZfP Guideline MC 1
VDI / VDE Guideline 2616 Paper 1
Nordtest Technical Reports 424-1, 424-2, 424-3
---
Applications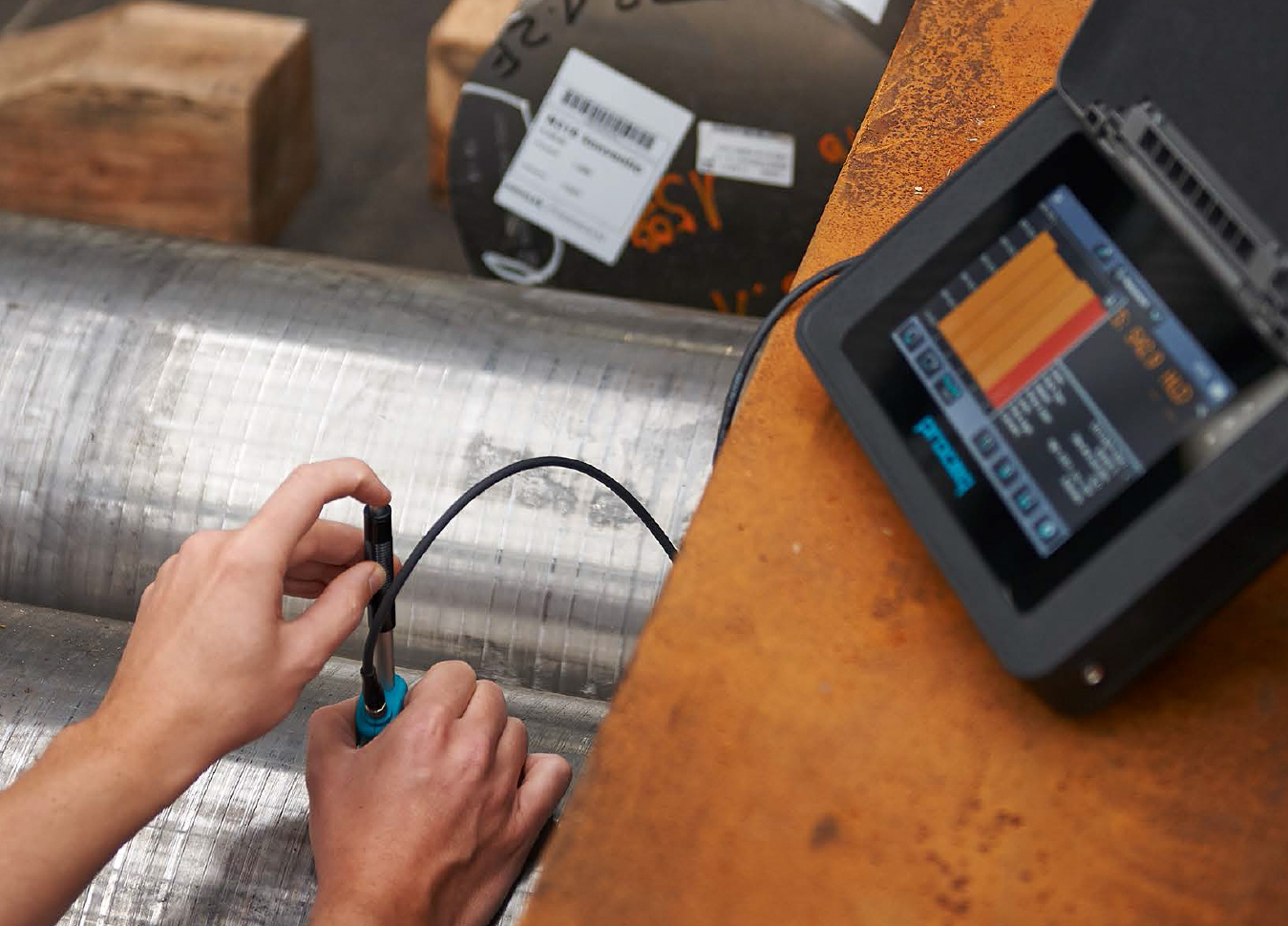 Fire damage assessment
Engine cylinder
Narrow automotive parts
Aluminium castings
Steel rolls
Marine industry
Transmission gears
Rolling mills
---
Product Data - Type D Impact Device (Standard)
Click here to view full Impact Device specifications
---
Test Blocks
An extensive range of precise hardness test blocks available for each impact device with different hardness levels for regular verification.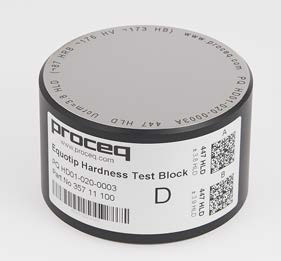 Share This Product