Magnetic Particle Inspection (MPI) Equipment
JAY
Magnetic Particle Inspection Yoke
---
Heavy Duty NDT Yoke
The Johnson & Allen Yoke (JAY) has been a core product in our MPI equipment range for over two decades. Manufactured in-house the JAY has a proven track record for usability, durability and reliability. The core is encapsulated in a hard-wearing, impact and abrasion resistant polymer which makes the JAY one of the most heavy duty yokes on the NDT market. Like other Johnson & Allen yokes the JAY is fitted with a self-resetting thermal cut-out to prevent burnouts from misuse.
The JAY is supplied lift tested with certificate of conformity and in a heavy duty canvas bag as standard.
Replacement parts also available - Including pairs of complete leg sections, pairs of just the feet sections, micro switches, switch covers and rubber membranes etc.
---
JAY 'PAL' Option
The JAY can be supplied fitted with a Permanently Attached Light (PAL) pod. This rugged inspection light is contained in a purpose cast and resin filled pod and is operated using a switch independent of the energising function. Using an ultra-bright white LED cluster the PAL illuminates the area between the poles to in excess of 500 Lux - The minimum required by many MPI standards. The lead can also be upgraded to an armoured cable for increased robustness.
The JAY 'PAL' is ideal for night shift work where light is limited, on-site work where use of other light sources may be impractical and enclosed or difficult inspections that require freer hands to perform efficiently.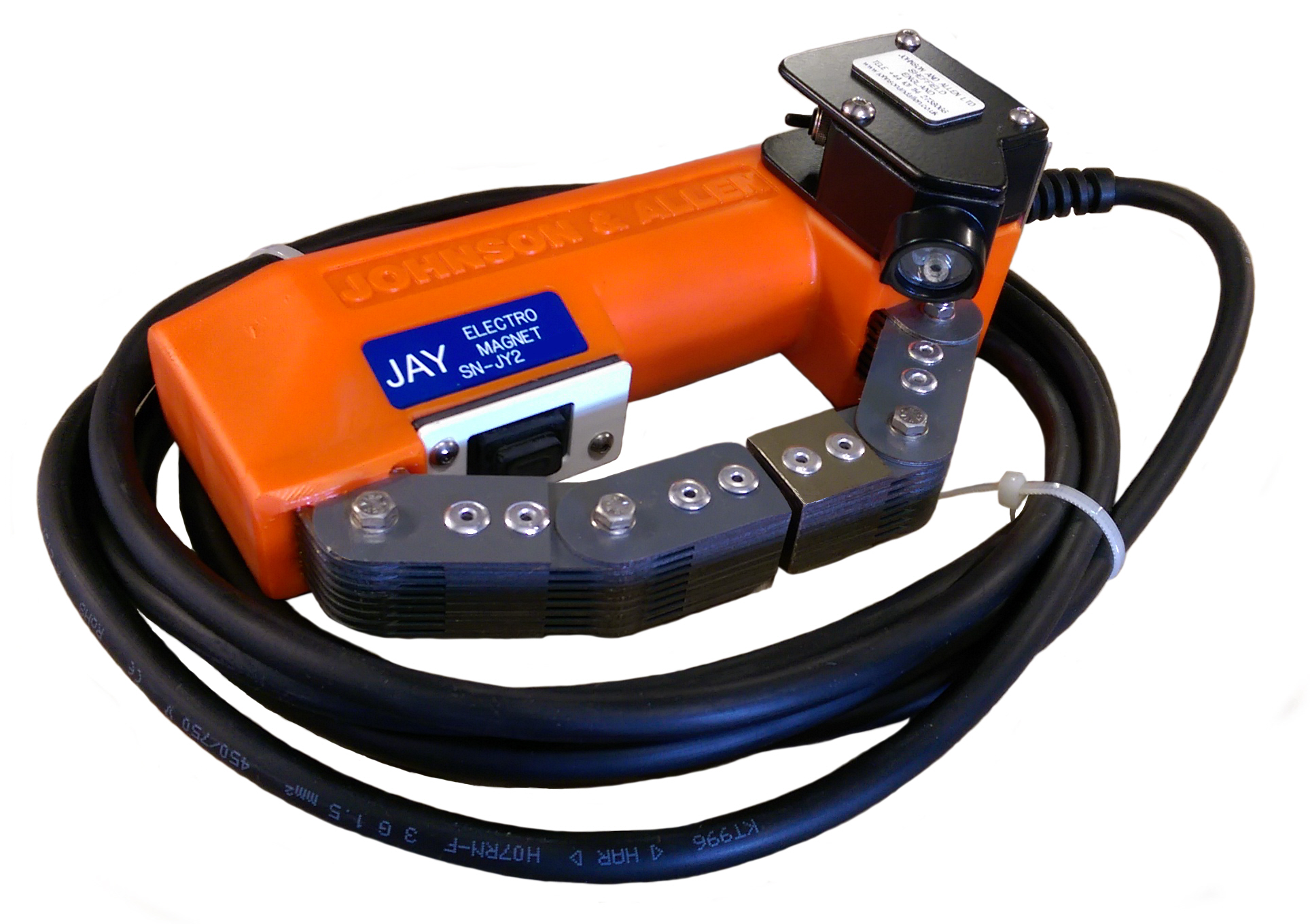 ---
Product Data
Voltage
110V
230V
Current (Unloaded)
3.7A
2.1A
Frequency
50/60Hz
Weight
3.25Kg
IP Rating
IP56
Lift Test Weight
>4.5Kg
Warranty
12 Months
Mains Lead
4m
Powerbelt Compatibility
110V Only
Specification Compliance
BS EN ISO 9934-3:2015
ASTM E1444/ E1444-11
ASTM E 709
​ASTM E3024
Share This Product