Magnetic Particle Inspection (MPI) Equipment
JAYMI
MAGNETIC PARTICLE INSPECTION YOKE
---
Lightweight NDT Yoke
The JAYMI is the next generation of yoke from Johnson & Allen - Developed to be light weight but powerful, efficient and robust. Previously customers have had to compromise on either weight, durability or power when choosing a yoke. Overcoming these limitations was the design philosophy behind the JAYMI.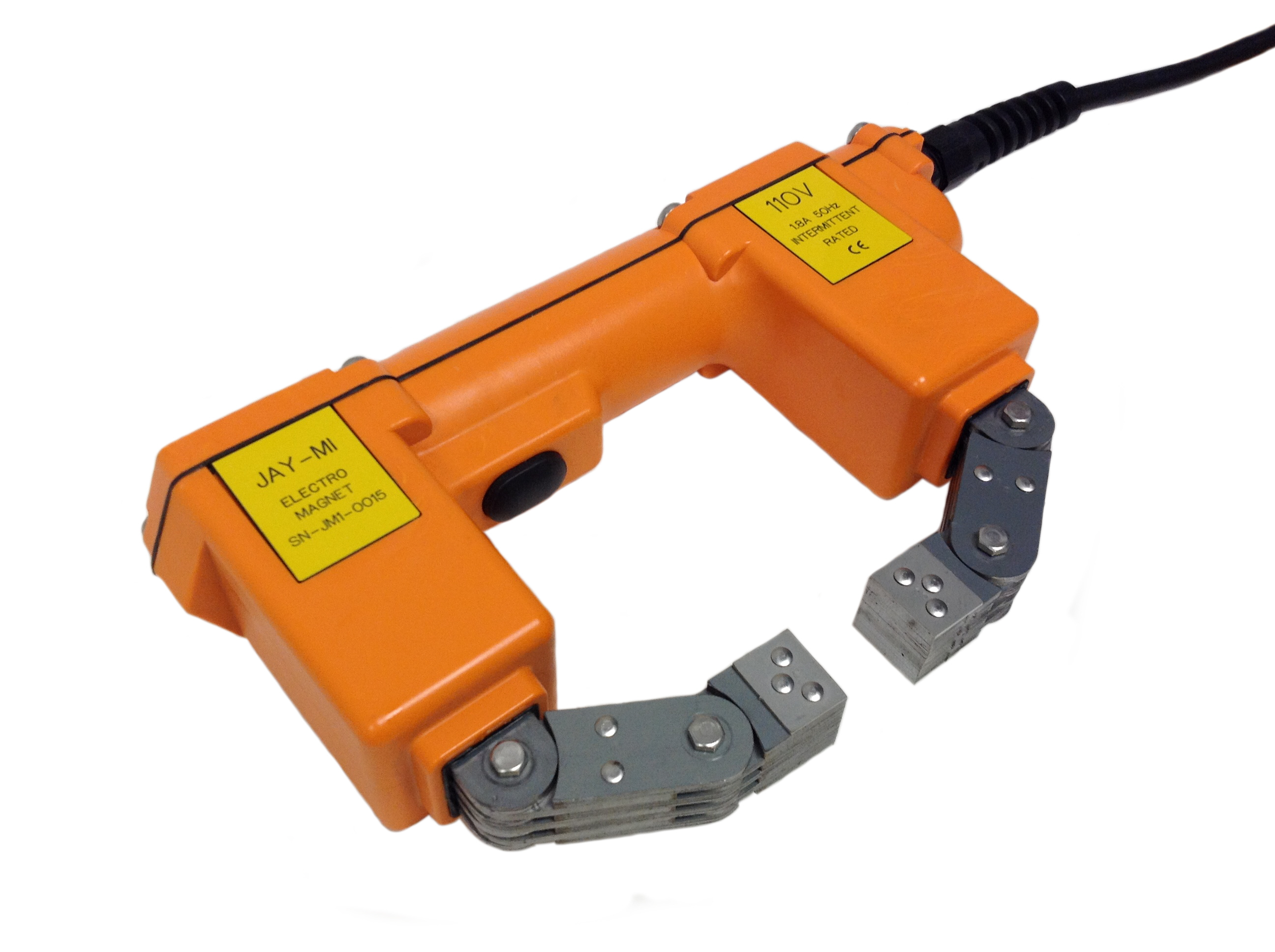 The core is housed within an ergonomic injection moulded shell made from an abrasion and chemical resistant plastic and the yoke incorporates a number of rubber gaskets to retard fluid ingress. The energising micro switch is trigger mounted with a rubber membrane making it easy to press and giving a user friendly action to it.
Replacement parts also available - Including pairs of complete leg sections, pairs of just the feet sections, micro switches, rubber membranes etc.
---
Quality UK Construction
The JAYMI is manufactured in-house and fitted with a self-resetting thermal cut-out to prevent burnout from misuse (like all Johnson & Allen yokes) and the feet sections include steel 'guard plates' on both sides to reduce long term lamination splaying. This product is also recyclable and complies with the EU WEEE Directive for disposal of electrical waste products.
The JAYMI is supplied lift tested with certificate of conformity and in a heavy canvas bag as standard.
---
Handheld Portable AC Electromagnet
The 110V JAYMI is also available as a JAYMI-PAC for customers who require battery operated yokes.
See the JAY-PAC product listing for more information.
The JAYMI is ideal for portable inspections and rope work due to being light weight and its low current draw meaning portable yoke battery packs will last longer per charge.
---
Product Data
Voltage
110V
230V
Current (Unloaded)
1.8A
1.1A
Frequency
50/60Hz
Weight
2.3Kg
Lift Test Weight
>4.5Kg
Warranty
12 Months
Mains Lead
3m
Powerbelt Compatibility
110V Only
Specification Compliance

BS EN ISO 9934-3:2015
ASTM E1444/ E1444-11
ASTM E 709
ASTM E3024
Share This Product