MC460
460mm Aperture Demagnetiser
---
MPI Component Demagnetiser
The MC460 can be used as both a magnetising and demagnetising coil and is capable of finding circumferential orientated defects. With a sturdy PVC construction and with the coils fully sealed this unit is suitable for use in even the harshest engineering environments.
The MC460 is fitted with a self-resetting thermal cut-out to prevent burnouts from misuse and the AC only model is supplied with an energising Foot Pedal for ease of use.
---
Versions Available:
MC460/1 - AC Only
MC260/2 - AC/DC Model
---
AC/DC Model
The MC460 AC/DC demagnetizer is similar to the standard AC MC560 but is supplied with a sealed control box which features a mode selection dial to allow operators to select either AC or DC modes of operation.
The AC/DC version can be supplied with either a Foot Pedal or a Hand Control for energizing. The hand control also displays the currently selected mode.
The AC mode is effective at demagnetization / degaussing – However the DC waveforms produced by the MC460 (AC/DC) do not change polarity, so this mode is not suitable for demagnetizing parts. Therefore the DC mode should only be used when wanting to magnetize a part.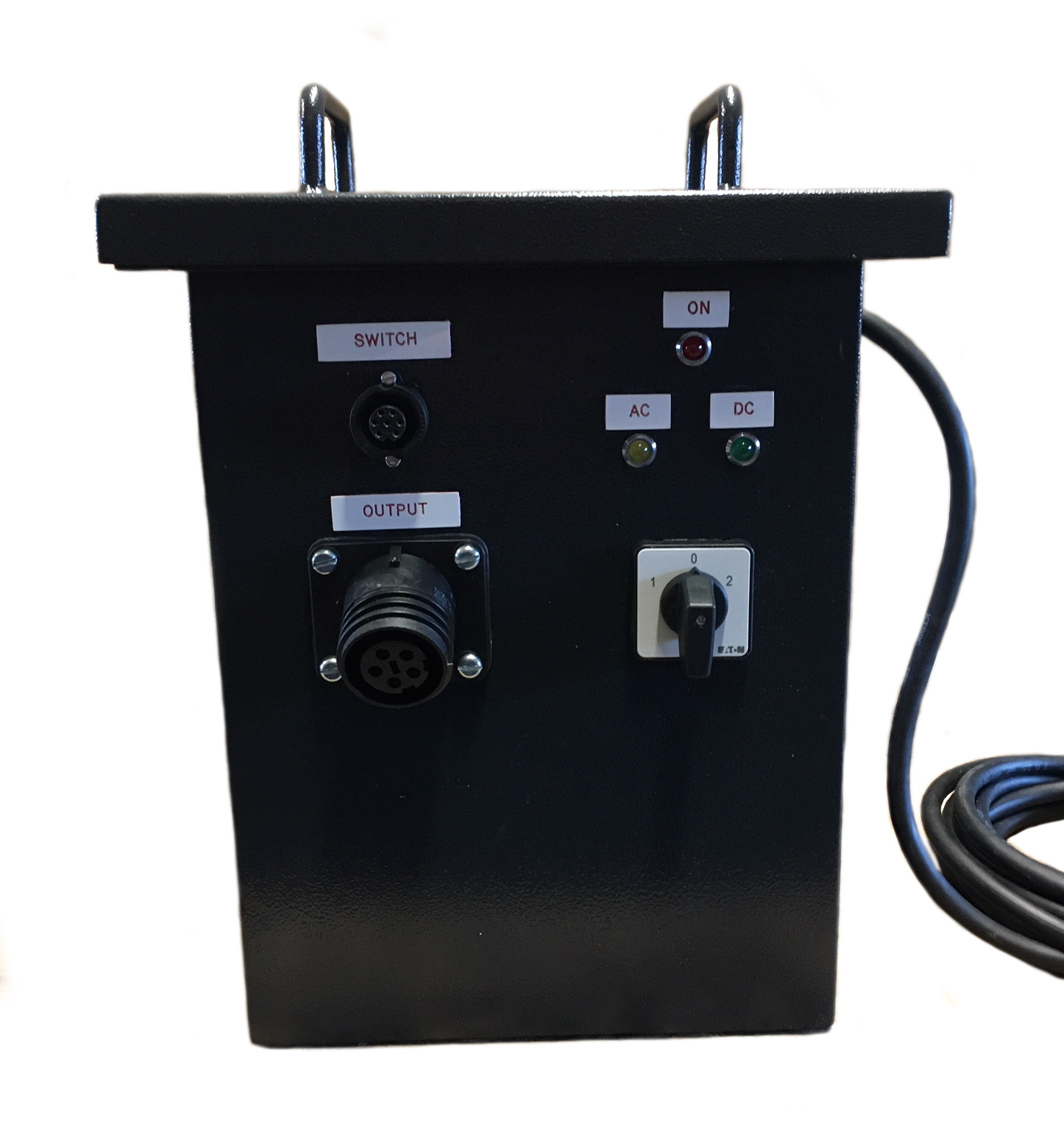 ---
Product Data
Version
AC Only
AC/DC
Input Supply
(Unloaded)
230VAC @ 18.5A
230VAC @ 18.5A
Voltage Regulation
±10% of nominal
±10% of nominal
Frequency
50 / 60 Hz
50 / 60 Hz
Waveform
AC
AC / DC
Aperture Diameter
460mm (18 Inches)
460mm (18 Inches)
Energize Switch Position
Foot Pedal
Foot Pedal / Hand Control
Mode Selection
N/A
Selector Dial on Control Box
Duty Cycle
25% - Max. ON time 30 seconds
25% - Max. ON time 30 seconds
Magnetic Field
(@ Center)

110 Gauss
(8.8 KA/m)

110 Gauss
(8.8 KA/m)
Coil Dimensions (LWH)
600 x 130 x 680mm
600 x 130 x 680mm
Coil Weight
34 Kg
34 Kg
Control Box
Dimensions (LWH)
N/A
300 x 300 x 360mm
Control Box Weight
N/A
23 Kg
Ingress Protection
IP54
IP54
Mains Lead
4 Meters
4 Meters
Foot Pedal / Hand Control Lead
2 Meters
2 Meters
Plug Type
'C' Form - 32A
'C' Form - 32A
Warranty
12 Months
12 Months
Share This Product