Aperture Demagnetisers
NDT Demagnetisation Unit
---
Intermittent or continuous use
Johnson & Allen design and manufacture bespoke aperture demagnetising coils for a variety of applications which have in the past included use in the automotive and aerospace industries. Aperture demagnetisers can be either intermittent or continuous use with the unit fully tailored to customer requirement.
All coils are wound, varnished and fully tested in-house to guarantee maximum performance and safety. Housings are of wooden construction and built from scratch so that no eddy currents are induced in the housing while allowing maximum versatility in the physical dimensions of the units themselves.
Coils are typically designed to work off either 230V or 400V inputs but custom voltages are available upon request.
---
Roller Track & Trolley Carriage Systems
To reduce EMF exposure roller track systems are available so that operators do not need to feed components through the aperture directly. Components can be loaded onto a carriage and pulled through which can ensure operators are not exposed to EMF readings exceeding the limits laid down in the EMF European Directive 2013/35/EU.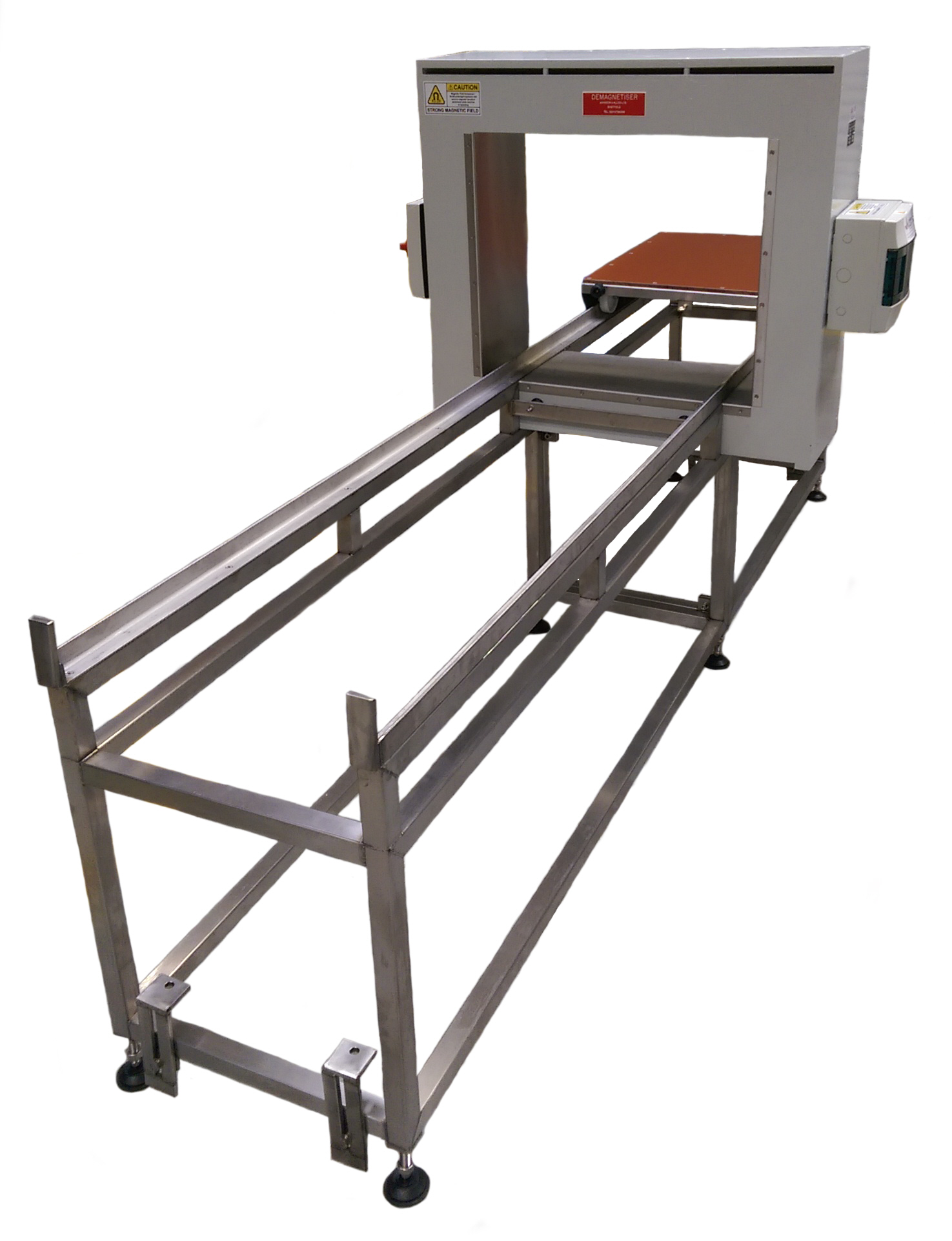 ---
Product Data
230V or 400V input voltage.
Up to 1000 x 1000mm aperture sizes - Made to measure, any size.
Intermittent or continuous use - Built to customer requirement.
Includes RCD.
Optional timer controls - Timed sequences so unit is not left on.
Optional conveyor, roller track, trolley and runway systems - Reduce EMF exposure.
Optional wear plates - Unit lasts longer and the plates can easily be replaced.
---
Talk To Our Team
As with all bespoke builds Johnson & Allen recommend customers contact our technical sales department to discuss their precise needs first. Our experienced team can recommend the most economical way to achieve the level of demagnetisation sought. Typically residual magnetisms after demagnetisation are around 2 Gauss.

Share This Product